Disgraced ex-lawyer Alex Murdaugh has been sentenced to life in prison for murdering his wife and son in a case that shocked the US.
The hearing in South Carolina came one day after a jury took less than three hours to convict the 54-year-old.
Murdaugh's wife, Maggie, 52, and son Paul, 22, were shot at close range on their family estate on 7 June 2021.
Prosecutors argued he killed his wife and son to divert attention from his financial crimes and gain sympathy.
Judge Clifton Newman called the case "one of the most troubling" he had seen and noted Murdaugh's past "as a well-known member of the legal community".
"You've practised law before me, and we've seen each other at various occasions throughout the years," he said, calling it "especially heart-breaking for me" to learn of Murdaugh's arrest and prosecution, more than a year after the murders were committed.
Alex Murdaugh headed a legal dynasty that for decades had occupied a powerful place – the jurisdiction was described by some as "Murdaugh Country".
Judge Newman said he understood the decision by the state not to seek the death penalty, but noted that Murdaugh's own family had had people executed for less.
"Your family, including you, have been prosecuting people here in this courtroom, and many have received the death penalty, probably for lesser conduct," he said.
The disbarred attorney was convicted of two counts of murder after a six-week trial.
During the trial, investigators revealed how Murdaugh stole nearly $9m from clients, to fund an addiction to painkillers and a lavish lifestyle.
At Friday's sentencing, Murdaugh spoke briefly twice, to maintain his innocence. His lawyers said they would appeal against the life terms within 10 days.
Murdaugh's surviving son, Buster Murdaugh, dressed in a simple navy-blue blazer, sat still and silent throughout the proceedings – even as the judge sentenced his father to two consecutive life sentences.
The judge also suggested the murders may have been carried out under the influence of the drugs.
"It might not have been you, but it may have been the monster you became when you took those pills."
Lead prosecutor Creighton Waters said the evidence against the South Carolina lawyer was "overwhelming" and showed him to be a "cunning, manipulative man who placed himself above all others, including his family".
Murdaugh, meanwhile, restated his claim that he was not guilty.
"I would never hurt my wife and I would never hurt my son," he said in brief remarks at the hearing. He stared ahead and did not react as his sentence was read.
A video filmed by Paul Murdaugh just minutes before he was shot featured the voice of his father in the background, dramatically contradicting his claim he was not there at the time.
A juror who convicted him told ABC News that was the moment he began to suspect the defendant was guilty.
A new mugshot released by the South Carolina Department of Corrections (SCDC) shows that Murdaugh's head has now been shaved.
According to local media, male prisoners normally undergo some sort of haircut upon arriving in prison.
The SCDC said in a statement that "like all inmates" he will spend the next 45 days in the intake process – during which time his medical and mental health will be assessed, as will his educational level.
After the 45-day period, he will be sent to a maximum-security prison.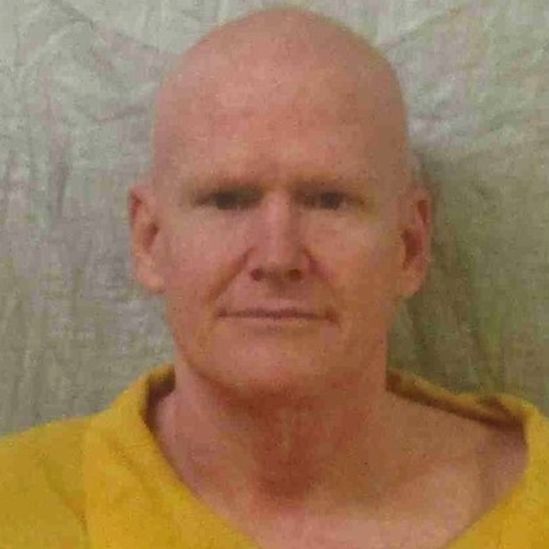 During a news conference after the sentence was handed down, Murdaugh's lawyers said they did not believe it was a mistake for him to take the stand during the trial. They called Judge Newman's decision to allow evidence related to Murdaugh's financial crimes to be included in the murder trial "erroneous".
The state's case "was about character, not about motive", defence attorney Dick Harpootlian said. Murdaugh had been cast as a "despicable human being", he said.
The high-profile case has captured national attention and sparked true crime podcasts and documentaries.
Source: BBC